"I've made up stories and poems from the time I could talk and read--which my mother says happened about age two. Writing seemed a natural career choice; however, it took decades to finally come together," says Yvonne "EV" Lanelli, freelance writer, photographer and editor.
"But now, I'm finally living my passion."
After earning her B.A. and M. A. in English and journalism at the University of Texas at El Paso, Yvonne taught high school and college freshman English in El Paso for eight years. "Although it was fun introducing students to great literature and advising them how to transform their thoughts and words into creative and essay writing, I felt something was missing from my life."
A move to the mountains of southeastern New Mexico supplied the missing pieces. "I skied and ski patrolled six days a week at Ski Apache, the nation's southernmost major ski resort, fought fires and answered emergency calls with our volunteer fire department and EMS." Publicity releases for those volunteer groups led to a paying gig with the local weekly newspaper, and Yvonne's latent writing career began.
She and her late husband, Rusty, continued to ski all over the western United States and Canada, in Europe and New Zealand--and traveled to Africa, China, Thailand, and Australia. Her travel and ski articles were published in Snow Country, New Mexico, EMS Region III Communicator and in regional newspapers. After losing Rusty to a terminal illness, she continued their dream of traveling the world.
In 2002, a final piece completed her life. "I fulfilled a childhood dream of becoming a certified scuba diver. A year later I attained Master Diver and in 2007 earned the professional classification of Divemaster." Not bad for a girl living on a mountain in the middle of the desert!" Shortly after becoming certified, Yvonne published her first dive article—and diving has now become one of her major topics.
"I live my passion—what about you?"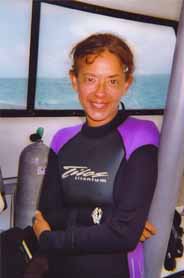 Today, Yvonne is the outdoor adventure columnist for the Alamogordo (NM) Daily News and the Ruidoso (NM) News. Her column "Follow Me!" appears every other Friday, taking readers scuba diving in the New Mexico desert or the equatorial Pacific, whitewater rafting in Siberia, Chile or Idaho, skiing and snowboarding at Ski Apache or Taos, bicycle riding in the Bronx or the Lincoln National Forest, swimming with sharks in North Carolina or Cocos Island, swilling Mayan moonshine in Belize, snorkeling in the Sea of Cortez or Palau's Jellyfish Lake, fly fishing in Ruidoso or Patagonia and of course, adventuring in Antarctica.
Yvonne's travel health features appear in Wilderness Medicine, a publication of Wilderness Medical Society for which she is a Contributing Editor; and in Platinum, a senior lifestyle quarterly." Her scuba diving features and photos have appeared in DAN Alert Diver, DAN Asia-Pacific, Dive Chronicles, Undercurrent, and the Albuquerque (NM) Journal, as well as in her column. Podiatry Management published her personality profile about a rafting podiatrist as well as health travel tips. She is also published in Live Life Travel.
A member of both New Mexico Press Women and National Federation of Press Women, she has received numerous awards for writing and photography every year she entered their Communications Contests. [See Awards link]
Whether skiing deep powder or diving deep oceans, Yvonne remains passionate about sharing her adventures with readers.
She maintains, "Discover your passion and live it!"