JUST A LITTLE SCRAPE. . . .
*First Place Winner of Health category in the New Mexico Press Women's Communication Contest, 2009.
* Published by Wilderness Medical Society Magazine
Fall 2008
By Yvonne Lanelli & Pierre Guibor, MD
"It was just a little scrape, a superficial cut. But it wouldn't get well. . . ."
When Celia Giles, 57, landed on the tropical island of Ifaluk, Yap, Federated States of Micronesia, acquiring a tropical infection never entered her mind. "I looked forward to the first stop of our month-long voyage from Micronesia to French Polynesia."
Zodiacs (motorized inflatable boats) shuttled passengers from their expedition cruise vessel, Cruise West's 120-passenger Spirit of Oceanus, to Ifaluk's beach.
"A staff member asked Andy and me to help passengers out of the Zodiacs."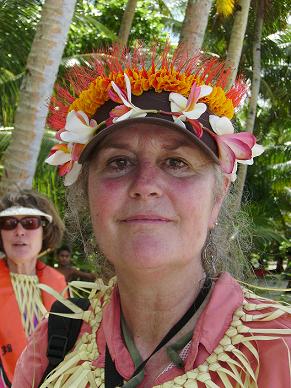 Celia's husband Andy, World War II specialist and documentary filmmaker, served as onboard guest lecturer. "Of course we said yes."
Many passengers were in their seventies and required assistance sliding out of the Zodiac and into ankle-deep water. This presented no problem for six-foot (180 cm) Celia, yoga instructor and massage therapist. She waded into the water and gave her attention to septuagenarian guests.
"There was this coral rock about the size of three soccer balls. While assisting a passenger, I stepped back onto the rock and scraped my left ankle."
Athletic Celia scarcely noticed the wound and continued assisting passengers as gentle waves lapped her feet. Then she joined them for a morning with the islanders.
Back in her cabin Celia examined the ankle. "It was superficial, a small puncture." She washed it with soap and water.
BUT IT WASN'T HEALING. . .
Next day Oceanus anchored off the Yapese island of Satawal. Again, passengers transferred to the island in Zodiacs, wading in ankle-deep sea water.
Before going ashore, "I applied Bacitracin™ antibiotic ointment and a Band aid™ from my first aid supplies. In and out of sea water, the Band-aid and ointment washed off."
Four days post-injury, Celia consulted Spirit of Oceanus Ship Doctor and WMS member Pierre Guibor, MD.
"Celia presented with a half-inch (1 cm.) superficial abrasion on the lateral aspect of her left ankle. She stated her personal health excellent, non-diabetic, non-smoker and social drinker. She denied past family history of peripheral vascular disease but added, 'At age 80, my mother developed diabetes. She's now 86.' I advised continued washing the cut daily with soap and water, applying topical Bacitracin ™, elevating the ankle, keeping the injury clean, avoiding exposure to salt water and to follow up with changes."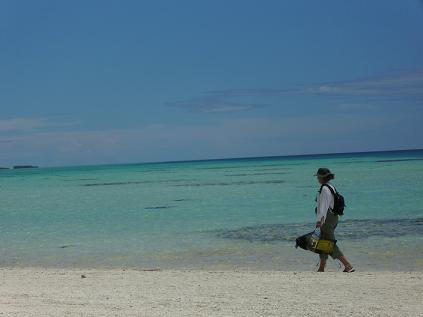 Celia grinned ruefully. "What bothered me the most--I'm in the South Pacific and I can't swim or snorkel!"
Pierre updated Celia's immunizations with 0.5 tetanus toxoid IM.
At Oroluk Lagoon, Chuuk and Pohnpei, Oceanus's eco-tourists snorkeled, hiked World War II ruins and bird-watched in tropical heat and humidity. "The Band-aid wouldn't stay on, flies swarmed around it and I couldn't keep it clean and dry. Still, I trusted in my usual healing capacity, so I waded in water, but with a larger bandage."
Then Celia's ankle swelled, turned red and abscessed.
"STILL I BELIEVED ALL WOULD BE WELL. . ."
Pierre started Celia on a ten-day course of oral Bactrim DS, two tablets twice daily, adding warm compresses to her daily self-care regimen.
Pierre wanted to rule out diabetes. However, no microscopic or biopsy facilities are available on small eco-tourism cruise ships. "We were sailing in the remote Solomon Islands, Arnavons, Tikopia and Vanuatu. And although some islands had community health clinics, our ship's medical facilities were greater than the islands'."
Six days post-injury, the lesion turned into a draining leg ulcer with purulent discharge. Pierre said, "I'm thinking possible vibrio implication now. But because of our remoteness, we had no choice but to continue our current treatment." Pierre changed the antibiotic from Bactrim to Cipro 500 mg BID and added hydrogen peroxide to the cleaning regimen.
"I felt little pain, just discomfort from swelling. Due to my six-foot distance from eye to ankle, I didn't perceive its changes. I did notice Pierre's and my husband's concerned expressions. Still I believed all would be well."
Celia concentrated on helping herself heal. "I ate fresh fruit and yogurt with live cultures to assist the antibiotics, meditated, thought positively about my capacity to heal and visualized the leg getting well."
Pierre worked behind the scenes as well. "I asked the Purser to arrange with the Ship's Agent for a specialist medical consultation when we docked in either Lautoka or Suva, Fiji, the first cities of the voyage."
"JUST A TYPICAL CORAL CUT. . ."
Fourteen days post-injury, the Oceanus docked in Suva. While passengers toured, Celia consulted Dr. Qoui at Suva Private Hospital.
Dr. Qoui examined Celia and, per Pierre's request, performed tests that ruled out diabetes. Celia reported to Pierre that evening, "He said, 'You have a typical coral cut, a stubborn tropical infection, common here. Tropical humidity and standing in salt water make small scrapes worse. And since coral is a living organism, you need antibiotics. Dr. Guibor's treatment is what we prescribe. Continue the Cipro and daily cleaning.'
"Dr. Qoui said it would heal but to expect several weeks more—and I could swim in the ocean if I cleaned it well afterwards. I waited several days before I swam." On her own, Celia discontinued the hydrogen peroxide.
Four weeks post-injury, the ship reached Papeete, Tahiti where Celia and Andy disembarked. On her final visit, Pierre noted, "The persistent leg ulcer drained and is now the size of a quarter with granulation tissue in the bed of the ulcer."
Everyone expressed relief to see improvement. "Andy and I planned a month more of travel before returning home to Maine."
EVER SO SLOWLY. . . .
The wound continued to drain while Andy and Celia toured New Zealand. Over one month post-injury, the wound formed a scab.
Over two months post-injury, Celia rejoiced, "The scab finally fell off!"
In retrospect, she wonders, "Was it the original coral-organism contact, tropical flies, warm sea waters (with who knows what in that)--or all the above?"
SIDEBAR: IF YOU GET CLIPPED BY CORAL. . .
The obvious solution to avoid tropical infections due to cuts or abrasions is simply to avoid them by covering all bare skin. But since few of us stroll the beach dressed in body armor and combat boots, try a few simple precautions:
Lightweight long-sleeves and pants help shield the skin from accidental encounters with branches and other potential scratchers. Sturdy beach sandals protect the sides of feet better than flip-flops. If swimming or wading, watch where you put feet and hands, avoiding anything that looks jagged or colorful.
If you do get scraped, scratched or punctured, don't ignore it, says Pierre. "A coral abrasion / laceration may develop into a serious post traumatic infection, especially when exposed to sea water. Initially, wash the wound several times with soap and tap water. For the first three days, wash the wound with soap and water three times per day and apply topical antibiotic ointment such as Neomycin ™ or Bacitracin ™ after each washing. You may substitute hydrogen peroxide for soap and water. Keep the wound covered with a non-stick absorbent dressing such as Telfa™. The use of wide spectrum oral and/or IM broad spectrum antibiotics initially has been advocated by many physicians, especially those from Australia and New Zealand."
Update tetanus toxoid if indicated. The Advisory Committee on Immunization Practices (ACIP) recommends the use of Tdap in adults ages 19-64 "if they received their last dose of Td more than 10 years earlier and if they have not previously received Tdap."
If edema results, Pierre advises elevation of the injured limb, warm compresses and topical hydrocortisone ointment for reduction.
"If signs of infection are present (redness, pain, swelling, fever and/or purulent discharge), then IM and/or IV antibiotics may be required." If in a remote location, consider medical evacuation. "Progression to sepsis might result in widespread infection, a very serious condition."
Pierre Guibor, MD serves as cruise ship physician on several expedition cruise vessels sailing to remote islands in the North and South Pacific. PGuibor@aol.com
Yvonne Lanelli, retired EMT, is a freelance outdoor adventure writer/photographer. EVLanelli@yahoo.com
Back to More Tales of EV's Adventures
---

---
Discover more about Yvonne's can't-look-away prose and pix by contacting her at
---
---